The fatigue detection warning is a function which is useful on monotonous roads (motorways, high-speed roads etc.).
It analyses driver behaviour and takes account of events to inform you of any risk of fatigue such as:
steering wheel movement;
driver actions on other devices (indicators, windscreen washer etc.);
time spent driving without stopping;
...
This function is an additional driving aid in case of risk of fatigue. This function does not take the place of the driver.

Under no circumstances should this function replace the driver's care or responsibility whilst driving.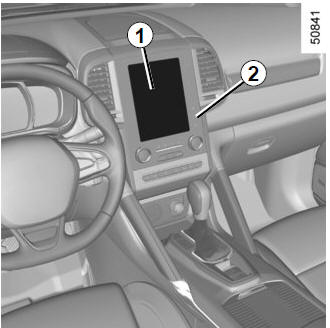 Activation/deactivation
Vehicles fitted with a multimedia system From the multimedia screen 1, select the "Vehicle" menu, "Driving assistance", "Fatigue detection warn." then choose "ON" or "OFF".
When the engine is started, the system remembers its position when the ignition was last switched off.
You can access menu "Driving assistance" directly from button 2

.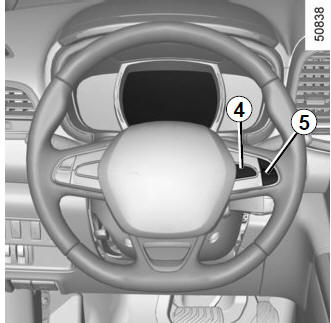 Vehicles not fitted with a multimedia system
With the vehicle at a standstill, press and hold the switch 4 OK to access the settings menu;
repeatedly press the control 5 up or down until you reach the "Driving assistance" menu. Press the switch 4 OK;
repeatedly press control 5 up or down until you reach the "Fatigue detection warn." menu, then press the switch 4 OK.
Press the switch 4 OK again to activate or deactivate the function.
Operation
The function is set to notify the driver if:
the vehicle speed is greater than approximately 37.2 mph (60 km/h); and
Approximately 15 minutes have passed since the deletion of the previous warning.
The function triggers an alert if the system detects repeated signs of fatigue in the driver at the steering wheel.
When a risk of fatigue is detected, the message "Fatigue warning have a break" is displayed on the instrument panel accompanied by a beep.
Press switch 4 OK to delete the warning.
It is advisable to stop as soon as possible for a break.
Note:
if the warning is not deleted by pressing switch 4 OK, the beep repeats;
the function may interpret certain driving styles as a sign of tiredness (sporty driving, incorrect driving etc.) or driving along a road which is in poor condition.
Operating faults
If the system detects a fault, the message "Check fatigue warning" is displayed on the instrument panel. Call an approved Dealer.