BRAKE FLUID REPLACEMENT INTERVAL
Our braking technology, and in particular the disc brakes (hollow pistons which conduct little heat, have a low volume of fluid in the cylinder, sliding callipers avoiding the need for a fluid reserve in the least cooled area of the wheel), has allowed us to prevent the risk of " vapour lock " as far as possible, even with heavy braking (mountainous area). However, current brake fluids are subject to minor deterioration during the first months of use due to slight humidity intake. This is why it is recommended that you change the brake fluid: see maintenance booklet for the vehicle.
1 - Topping up the level
Wear of the brake pads will result in a gradual drop in the fluid level in the reservoir.
Do not top up the fluid, as the level will rise again when the pads are next changed. The brake fluid level must not fall below the minimum mark.
2 - Approved brake fluid
Using a mixture of two incompatible brake fluids in the brake circuit may give rise to:
significant risk of leaks mainly due deterioration of the cups,
impaired operation of the ESP system.
To prevent such risks, it is essential to use only brake fluids that comply with the RENAULT standard.
Brake: Specifications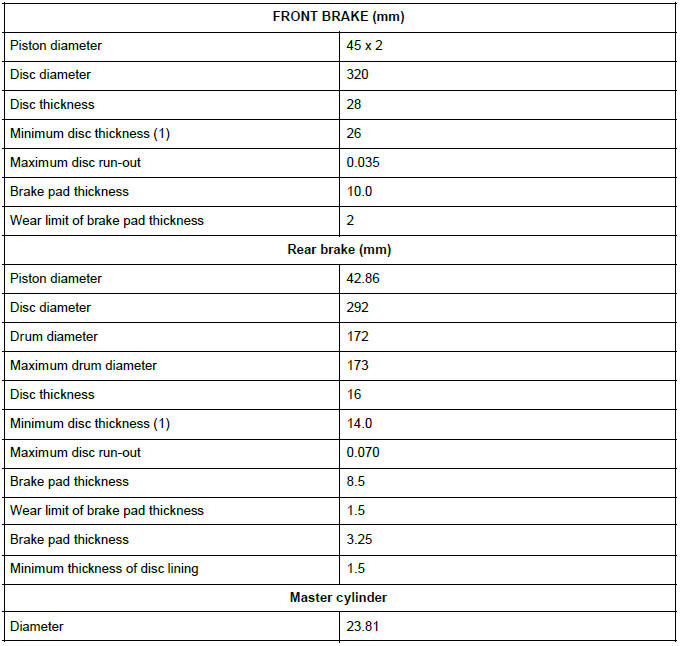 (1) Brake discs cannot be reground. The brake discs must be replaced if they are excessively scratched or worn.