Renault Koleos Service Repair Manual: Throttle valve: Cleaning
2TR
IMPORTANT Wear leaktight gloves (Nitrile type) for this operation.
IMPORTANT Wear goggles with side protectors for this operation.
Note: Be sure to work in a clean environment so as not to allow any contamination of the throttle valve.
PARTS AND CONSUMABLES FOR THE REPAIR WORK
Consumables:

CARBURETTOR CLEANER,
Lint-free cleaning cloths.
CLEANING
I - CLEANING PREPARATION OPERATION
Position the vehicle on a two-post lift.
Disconnect the battery.
Remove the throttle valve.
II - CLEANING THE PART CONCERNED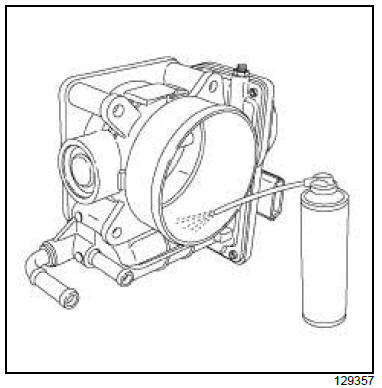 Hold the throttle valve flap open manually.
Spray the CARBURETTOR CLEANER product in the air vent until all traces of clogging have disappeared.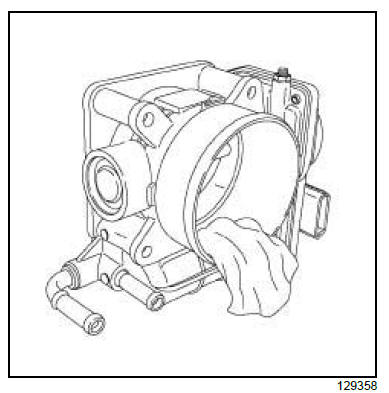 Remove the cleaning product residue and residue of the dirt using lint-free cleaning cloths.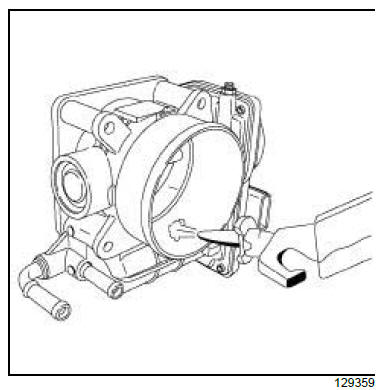 Use a hot air gun along the edge of the throttle valve and then on the air vent.
Note: If the throttle valve is dropped or is subject to any other impact, it must be replaced.
III - FINAL OPERATION.
Refit the throttle valve, fitted with a new seal.
Connect the battery.
When refitting the throttle valve, carry out the necessary programming.
Renault Koleos Owners Manual
Renault Koleos Service Repair Manual
© 2018-2023 Copyright www.rkoleos.com
0.0049