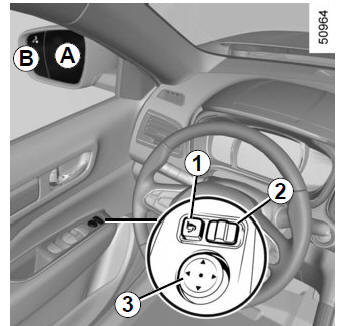 Exterior rear view mirrors
Adjustment Select the door mirror using the switch 2, then use the control 3 to adjust it to the desired position.
Heated door mirrors Mirror de-icing is carried out at the same time as rear screen de-icing.
Please refer to the information on "Manual air conditioning" and "Automatic climate control".
Folding rear view mirrors
The door mirrors automatically fold in when the vehicle is locked using the button on the RENAULT card or remote "Hands-free" locking. In this case, when the engine is started, the door mirrors fold out.
In any case, you can make the door mirrors fold in or fold out with switch 1.
If the switch 1 is pressed, automatic mode is deactivated. To reactivate the automatic mode, press the switch 1 again.
The driver's door mirror may have two clearly defined zones. Zone A shows what can normally be seen in an ordinary rear view mirror.

Zone B increases rear side visibility.

Objects in the mirror are closer than they appear.
Welcome and goodbye function (depending on the vehicle) From the multifunction screen, select menu "Vehicle", "User settings", "External welcome" and activate or deactivate the function (ON or OFF).
For safety reasons, carry out any adjustments when the vehicle is not being driven.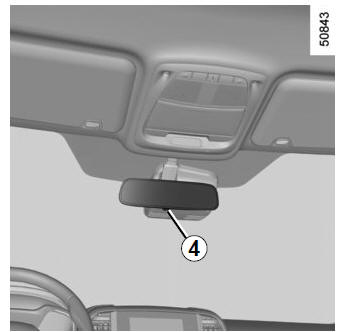 Interior rear view mirror
Its position can be adjusted.
Rear-view mirror with lever 4 For night driving, to avoid being dazzled by the headlights of the car behind you, flip the small lever 4 located behind the rear view mirror.
Rear view mirror without lever 4 The rear-view mirror darkens automatically at night if you are being followed by a vehicle with its lights on.