I - PREREQUISITES FOR WHEEL BALANCING
Wheel balancing is a measurement operation.

Several conditions must be met to achieve a reliable result in a single operation.

The wheel balancer must be installed in accordance with the manufacturer's instructions.

It is essential that the machine is recalibrated at the intervals specified by the manufacturer.

Never grease the threaded shaft.

Check the condition of the supports, centring components and mountings.

Replace any faulty parts (see manufacturer's instructions).

The wheel and the wheel balancer must be clean.
Driver's perception
II - BALANCING PREPARATION OPERATION
Adjust the tyre pressures (see 35A, Wheels and tyres, Tyre pressure: Identification, page 35A-8) .
Always carry out a road test for a minimum distance of 1 mile (2 km) before balancing the wheels, in order to remove any flat spots on the tread caused by the vehicle being immobilised.
After the road test:

raise the vehicle immediately,
leave the four wheels hanging free,
release the parking brake.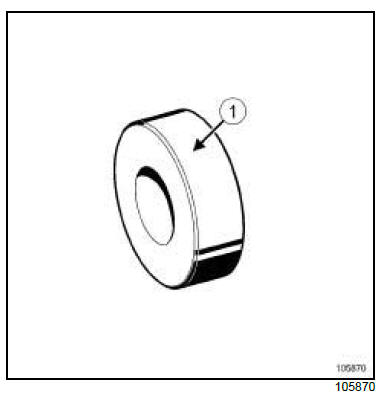 To reproduce the exact vehicle wheel assembly, it is essential to fit a ring (1) with a diameter of 66 mm on the wheel balancer.
There are three types of weight: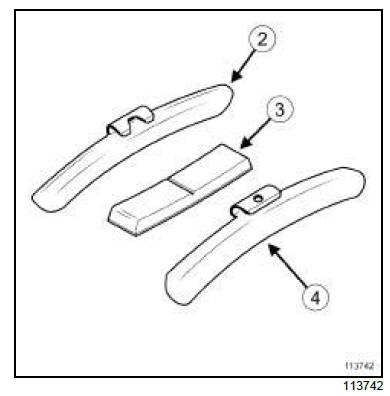 Steel wheel with flange
Alloy wheel with flange
Alloy wheel without flange
III - PROCEDURE FOR BALANCING THE WHEEL IN QUESTION
Make sure that the wheel balancer bearing surface and all the centring equipment (ring, thrust plate, etc.) are kept clean.
Try not to scratch the (alloy) wheel rim with the wheel tightening device.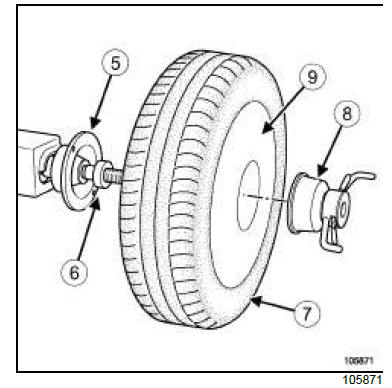 The wheel is fitted on the wheel balancer as follows:

(5) wheel balancer back-plate,
(6) ring 66 mm in diameter,
(7) wheel,
(8) wheel tightening device (certain alloy wheels require a device 200 mm in diameter to ensure that the wheel has been correctly tightened),
outer wheel plane (9) .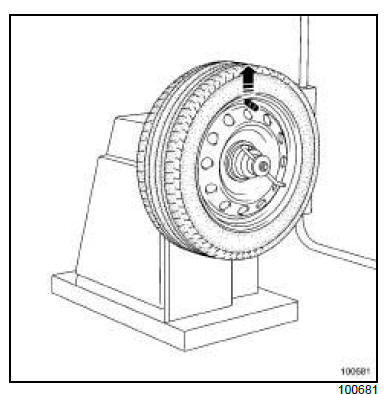 Place the wheel on the wheel balancer, with the valve at the top, then lock the wheel in place.
Remove any stones trapped in the tyre tread.
Enter the specific wheel parameters into the wheel balancer.
Start the wheel balancer and check the wheel balance, which should be 0 g on each plane of the wheel.
If this is not the case:

remove the old balance weights,
repeat the balancing procedure.

Repeat the operation until the wheel balance is 0 on each plane of the wheel.
Repeat this operation on the other vehicle wheels.
WARNING To avoid detachment of the balance weights, use only weights which correspond to the vehicle wheel rims
IV - FINAL OPERATION.
Refit the wheel on the vehicle in the position noted during removal (see 35A, Wheels and tyres, Wheel: Removal - Refitting, page 35A-1) .
Remove the pedal press.
Carry out a road test to confirm the customer complaint is resolved.
Tyres: Identification
Example of tyre identification marking: 185/60 R 15 84 H.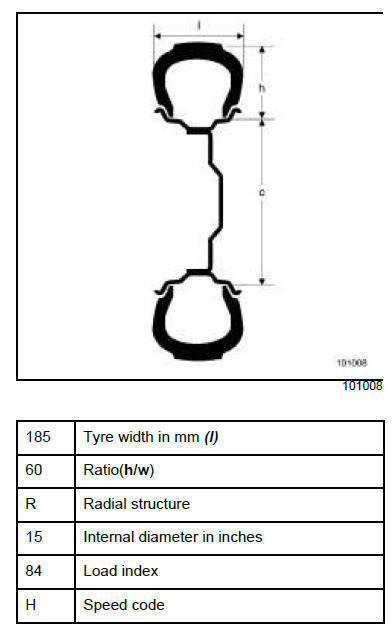 Speed code table: