Renault Koleos Service Repair Manual: Wheel: Removal - Refitting

REMOVAL
I - REMOVAL PREPARATION OPERATION
Position the vehicle on a two-post lift.
Release the parking brake.
Remove the trim (depending on equipment level).
II - OPERATION FOR REMOVAL OF PART CONCERNED
Note: Use sockets with protective sheaths in order to avoid scratching the alloy wheel rims.
Undo the wheel nuts, with the wheels on the ground.
Raise the lift.
Position the wheel valve at the top.
Remove:

the wheel nuts,
the wheel.
REFITTING
I - REFITTING PREPARATION OPERATION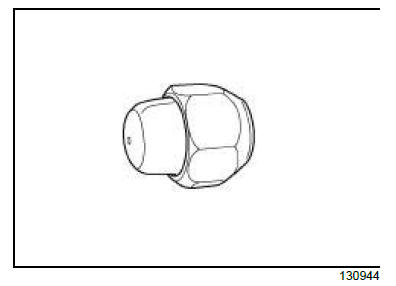 Clean the mating surfaces between the wheel and the hub carrier using a wire brush.
Check the condition of the tyre.
Do not move or remove the balance weights.
II - REFITTING OPERATION FOR PART CONCERNED
Refit the wheel to the vehicle, positioning the valve at the top.
Insert the wheel bolts.
Tighten the wheel bolts to bring all the bolt heads into contact with the wheel.
Pretighten the wheel bolts to 30 N.m, with the wheel suspended, starting with the lower nuts (1) and finishing with the upper nuts (2) .
Rotate the wheel through 180º to bring the valve into the bottom position.
Position the vehicle on its wheels.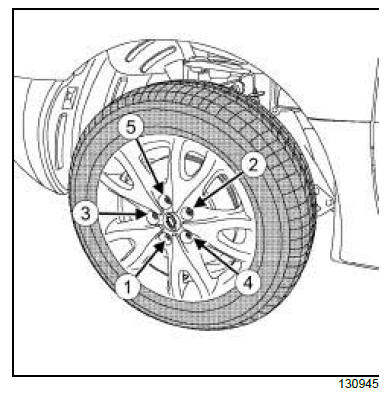 Torque tighten in order the wheel nuts (108 N.m).
III - FINAL OPERATION.
Refit the trim (depending on equipment level).
Renault Koleos Owners Manual
Renault Koleos Service Repair Manual
© 2018-2023 Copyright www.rkoleos.com
0.0054