The table below summarises the information already shown in the diagram on the following pages, to ensure the applicable regulations are respected.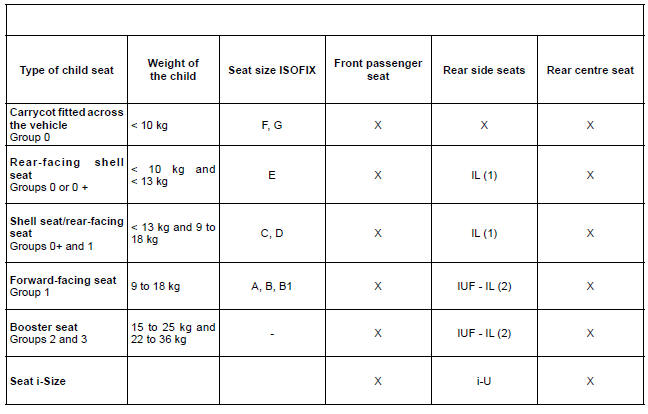 X = Seat not suitable for fitting child seats ISOFIX.
IUF/IL = On equipped vehicles, seat which allows an approved "Universal/semi-universal" or "vehicle specific" child seat to be attached using the ISOFIX system; check that it can be fitted.
i-U = Suitable for the i-Size restraint devices in the "Universal" forward-facing and backward-facing category.
(1) Move the front seat as far forward as possible to install a rear-facing child seat, then move back the seat in front as far as it will go, although without allowing it to come into contact with the child seat.
(2) In all situations, remove the rear headrest of the seat on which the child seat is positioned. This must be done before fitting the child seat. Move the seat in front of the child forwards, move the seatback forward to avoid contact between the seat and the child's legs.
The size of the ISOFIX child seat is indicated by a letter:
A, B and B1: for forward-facing seats in group 1 (9 to 18 kg);
C and D: shell seat or rear-facing seats in group 0+ (less than 13 kg) or group 1 (9 to 18 kg);
E: rear-facing shell seats in group 0 (less than 10 kg) or 0+ (less than 13 kg);
F and G: cots in group 0 (less than 10 kg).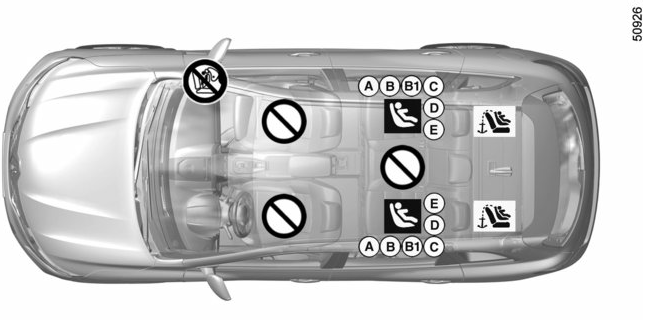 Using a child safety system which is not approved for this vehicle will not correctly protect the baby or child.

They risk serious or even fatal injury.

Seat which does not allow a child seat to be fitted.
check the status of the airbag before fitting a child seat or allowing a passenger to use the seat.
Child seat fitted using the ISOFIX mounting

Seat which allows a ISOFIX child seat to be attached.

The rear seats are fitted with an anchorage point which allows a forward-facing ISOFIX child seat with universal approval to be attached. The anchorage points are located on the backs of the rear seats.