Renault Koleos Service Repair Manual: Vehicle: Identification
I - LOCATION OF VEHICLE IDENTIFICATION PLATE (A)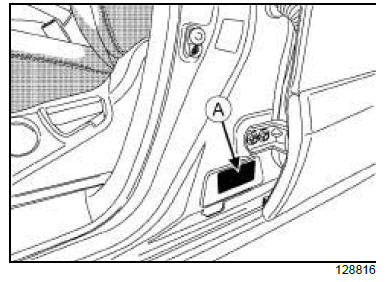 II - LOCATION OF THE VEHICLE IDENTIFICATION NUMBER (B)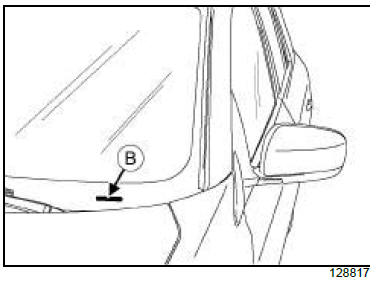 III - DETAILED VIEW OF THE VEHICLE IDENTIFICATION PLATE
Plate (A)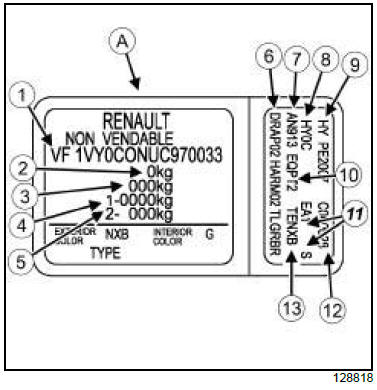 Vehicle type mine and type number; this information also appears on marking (B)
Maximum Gross Vehicle Weight
Gross train weight, vehicle under load with trailer
Maximum gross weight on front axle
Maximum gross weight on rear axle
Vehicle technical specifications
Vehicle paint reference
Equipment level
Vehicle type
Upholstery code
Additional equipment details
Fabrication number
Interior trim code
IV - COLD-MARKING OF THE BODY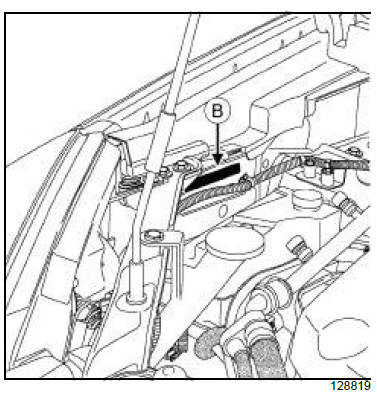 Note: If the complete body is being replaced, it must be marked in compliance with the current regulations.
See More:
Renault Koleos Owners Manual > Driving: Cruise control function
The cruise control function helps you to maintain your driving speed at a speed that you choose, called the cruising speed. This cruising speed may be set at any speed above 20 mph (30 km/h). The cruise control function is in no way linked to the braking system. Controls Main "On/Off" switch. Contr ...
Renault Koleos Owners Manual
Renault Koleos Service Repair Manual
© 2018-2023 Copyright www.rkoleos.com
0.0051