Renault Koleos Owners Manual: Vehicle fitted with intermittent windscreen wipers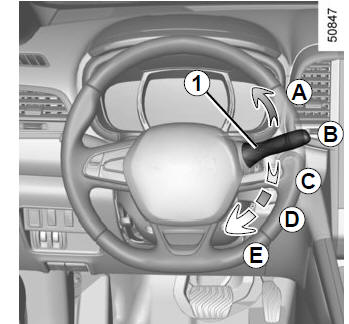 single sweep A short push will trigger one sweep of the wipers.
stop
intermittent wiping The wipers will pause for several seconds between sweeps. It is possible to change the time between sweeps by turning ring 2.
slow continuous wiping
fast continuous wiping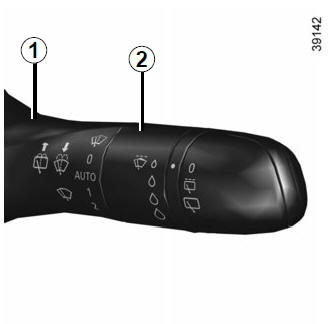 Special note When driving the vehicle, the wiping speed slows down whenever the vehicle stops. For example, fast wiping speed will slow to normal wiping speed.
As soon as the vehicle moves off, wiping will return to the speed originally selected.
If stalk 1 is operated, it overrides and cancels the automatic function.
Positions A, C and D are accessible with the ignition on. Position E is accessible only when the engine is running.
Check the condition of the wiper blades. You are responsible for their service life:
they must remain clean: clean the blades, windscreen and rear screen regularly with soapy water;
do not use them when the windscreen or rear screen are dry;
free them from the windscreen or rear screen when they have not been used for a long time.
In all cases, replace them as soon as they begin to lose efficiency: approximately once a year.
Before using the rear wiper, check that no object obstructs the travel of the blade.
Do not use the wiper arm to open or close the tailgate.
Renault Koleos Owners Manual
Renault Koleos Service Repair Manual
© 2018-2023 Copyright www.rkoleos.com
0.0161