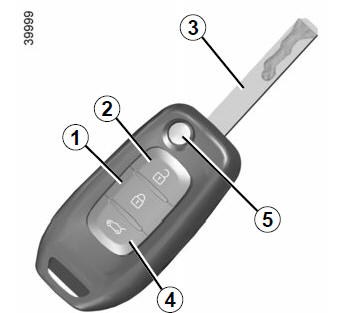 Locks all the opening elements.
Unlocks all the opening elements.
Ignition and front door key.
Locking/unlocking the tailgate only.
Remote control with switchblade key:
Locking/unlocking using the switchblade key. To release the insert from its housing, press button 5, it comes out automatically. Press button 5 and guide the insert back into its housing.
Advice
Avoid leaving the remote control in hot, cold or humid areas.
The key must not be used for any function other than those described in the handbook (removing the cap from a bottle, etc.).
Driver's responsibility when parking or stopping the vehicle
Never leave an animal, child or adult who is not self-sufficient alone on your vehicle, even for a short time.
They may pose a risk to themselves or to others by starting the engine, activating equipment such as the electric windows or locking the doors.
Also, in hot and/or sunny weather, please remember that the temperature inside the passenger compartment increases very quickly.
RISK OF DEATH OR SERIOUS INJURY.
Radio frequency remote control operating range
This varies according to the surroundings: take care not to lock or unlock the doors by inadvertently pressing the buttons on the remote control.
Note: If a door or the boot is open or not closed properly, the doors and boot lock/unlock in quick succession.
Interference
Interference by factors in the immediate vicinity (external installations or the use of equipment operating on the same frequency as the remote control) may affect the operation of the remote control.
Replacement and additional keys or remote controls.
You must only contact an approved dealer:
If you need to replace a key it will be necessary to take the vehicle and all of its keys to an approved Dealer in order to initialise the system.
Depending on the vehicle, you have the option of using up to four remote controls.
Remote control unit failure
Make sure that the correct battery type is being used, and that the battery is in good condition and inserted correctly. These batteries have a service life of approximately two years.