I - INFLATION
WARNING If checking the pressure when hot, increase the tyre inflation pressure by 0.2 to 0.3 bar above the recommended pressure.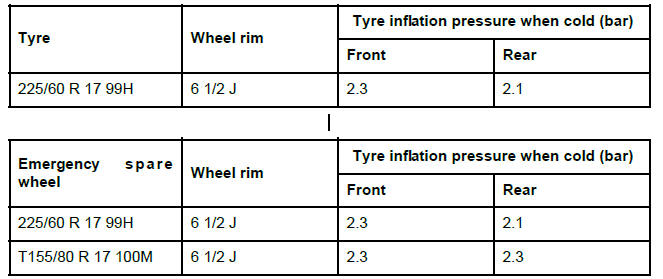 The specified pressure values assume that the tyres are cold.
II - CONFORMITY CHECK AND ADJUSTMENT
If the tyre size is changed, calibrate the electric power assisted steering computer using the tool Diagnostic tool.
Wheel offset:
17-inch alloy wheel rim: 40 mm,
emergency spare wheel 17 x 4T: 30 mm.
For fitting chains (see Driver's handbook).
Wheel rim: Identification
IDENTIFICATION
1 - Marking
There are two types of identification marking on the wheel rims:
engraved marking for steel wheel rims,
cast marking for alloy wheel rims.
The marking gives the main dimensional specifications of the wheel rim.
This marking may be:
complete, for example 6 J 15 5 CH 36,
simplified, for example 6 J 15.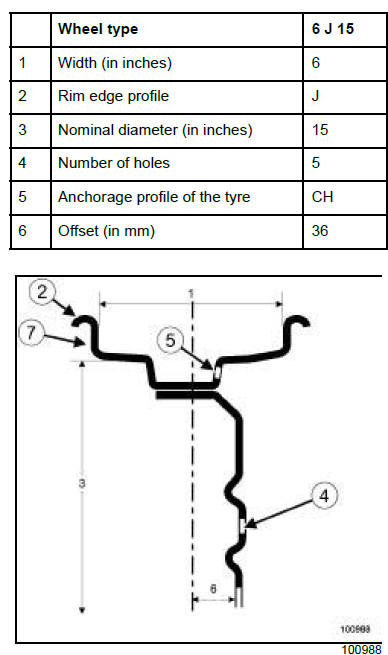 There are 3 types of wheel rim edges (2) :
those with two flat edges,
those with two raised edges,
those with one flat edge and one raised edge.
2 - Installation diameter for the wheel bolts
The wheel bolts are positioned with a pitch circle diameter of 114.3 mm (5 holes).
3 - Rim run-out
The maximum run-out is measured at the wheel rim edge (7) .
0.3 mm
4 - Out-of-roundness
The maximum out-of-round value is measured on the tyre bead bearing surface.
0.3 mm