Renault Koleos Owners Manual: Topping up, filling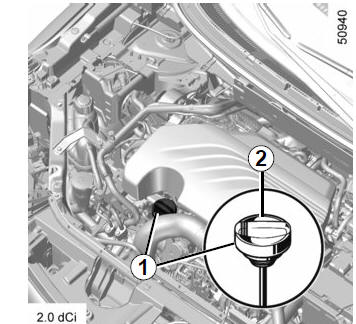 Topping up/filling
The vehicle must be parked on level ground and the engine should be cold (for instance, before the engine is started up for the first time in the day).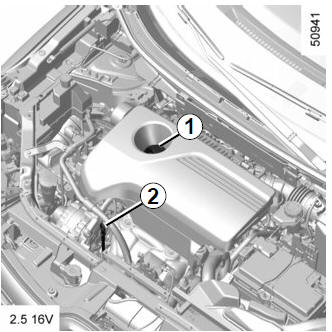 Unscrew cap 1;
top up the level (as a guide, the capacity between the minimum and maximum reading on the dipstick 2 is between 1.5 and 2 litres, depending on the engine);
wait for approximately 10 minutes to allow the oil to flow into the engine;
check the level using the dipstick 2 (as described above).
Once the operation has been completed, ensure that the dipstick is pushed in as far as it will go and that the cap is completely screwed in.
Before performing any action in the engine compartment, the ignition must be switched off by pressing the engine stop button .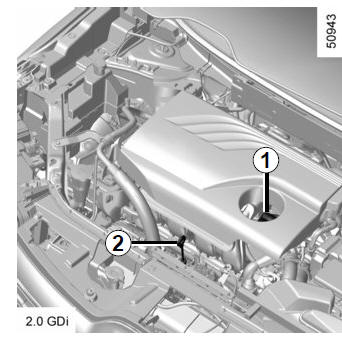 Do not exceed the max level and do not forget to refit cap 1 and dipstick 2.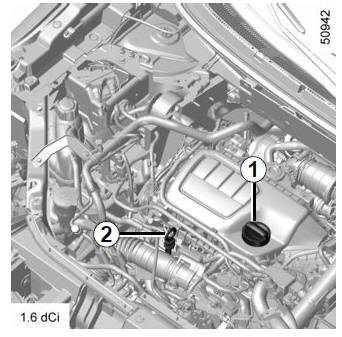 In order to prevent splashback, it is recommended that a funnel be used when topping up/filling with oil.
Renault Koleos Owners Manual
Renault Koleos Service Repair Manual
© 2018-2023 Copyright www.rkoleos.com
0.0054